A Century of Character-Building and Games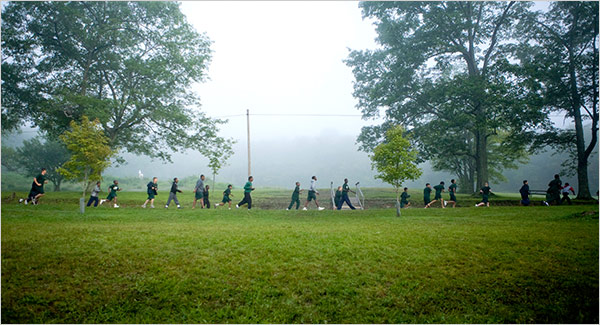 The mist hangs damp and heavy in the Catskills most mornings, obscuring the rising sun. It muffles the incessant birdsong and puts a dewy sheen on eight old-fashioned tarpaulin tents where 100 boys ages 9 to 16 are nestled in sleeping bags.
A few may be having nightmares about the black bear that wandered out of the woods and onto the baseball field the other day, sized up the players and shuffled back into the wilderness (another story for the campfire).
The Lake Delaware Boys Camp is celebrating its 100th anniversary of providing boys, many from impoverished families, with five free weeks of rural respite, with a dose of character building.
It is the antithesis of a resort. Picture a sports-centric boot camp with no ammunition in the wooden rifles and no cussing, mandatory daily church services and a weekly dress parade in military regalia. Campers are divested of iPods, cellphones and other battery-operated paraphernalia the instant they step off the bus, a sometimes tearful process.
Dawn is the quietest interlude of the day, the opposite of Mess Hall.
Same as it probably was a century ago when the first influx of campers were assigned to Company A or Company B, commencing a summer of competition in sports, marching, housekeeping — everything. Camp is insular and intense.
"To leave an urban setting to live in a tent in the woods just like thousands of boys have done for the last hundred years: that's a very spiritual experience," said Brian Bradley, 30, a former camper who is now a counselor (and, during the year, an assistant principal in East New York, Brooklyn). "Sure, they get on the bus and cry their eyes out — I did at 8 — but after a few days at camp, something magic happens."
According to tradition established in 1909 by Robert Livingston Gerry — a descendant of Elbridge Gerry, who was a signer of the Declaration of Independence and a vice president under James Madison — Lake Delaware days begin with Episcopal Mass and conclude with taps.
Precisely at 6:50 a.m., a cannon is detonated at a decibel level loud enough to shake the mist from the treetops. The flag is raised. The bugler barks out reveille. The boys spill from tents, spurred on by a megaphone-wielding Officer in Command: "Up we go, boys! Time to start a new day! Fall in!"
The officer one recent morning was Dan DeNose of Newark, who arrived here as a camper with a bad attitude in 1999 at age 10 and felt culture shock, then relief. Now he is a senior at Hobart and William Smith Colleges.
"I took in the morals and values and it got me on the right path, it became the foundation of who I am," Mr. DeNose said. "A lot has happened in a hundred years, but this place is still here, still teaching the same things, still marching in formation."
Lake Delaware's loyal alumni association took over operation of the camp in 1999 from the Gerry family, which remains the major underwriter of its $270,000 operating budget (campers who can also make donations). This summer, 160 children applied for 25 openings for newcomers.
The old swimming hole has been replaced by a heated Olympic-size pool; there is a modern climbing wall; and the latrine, known as "the perch," has been brought up to code by former campers, the same handy bunch who recently built the camp director a log cabin from a kit.
But those are surface changes. The camp ethos seems immutable: Build self-reliance, self-discipline and unselfish camaraderie in boys who may lack a structured home environment yet show an aptitude for leadership.
Rookies start as privates — counselors refer to them as "the untamed." Working up the hierarchy to major — this summer it is Michael Gratkowski, 16, from Staten Island — is the goal of returning campers.
There have been a few tweaks to tradition: there are two female counselors this year, both from Scotland; and corporal punishment is long gone.
"You got one swat for every 12 demerits," recalled Elbridge T. Gerry Jr., 76, a grandson of the camp's founder, "and yes, I can remember getting paddled when I was 12. I also remember sleeping in those tents; it was terrifying at first."
Some things you never forget.
"I cried all the way there on the bus from Port Authority," Hank Huestis, 84, now of Stony Brook, N.Y., recalled of departing his family's East New York tenement for the Catskills at age 12. "And then when camp was over, I cried all the way home. I couldn't wait to go back."
So he did, for five seasons, graduating as a first lieutenant in 1942. A stint in the Coast Guard and a 35-year career with NBC followed. Mr. Huestis returns each summer for alumni weekend, this year with his daughter and two grandsons. "Camp influenced the course of my life," he said. "It's in my heart and soul, a part of me, just like family. I hope it never changes."
The tents, set atop crude wooden platforms, still have no amenities. There are no frills on Company Street, the gravel thoroughfare separating the campers' tents from those of the 20 counselors (known as tactical officers). The green clapboard chapel, with its wainscoted interior and rare 1877 organ made by Hilborne L. Roosevelt, a cousin of Teddy's, has been the domain of the Rev. Ray Donahue since 1969.
At dawn, the camp's folksy director, the Rev. James H. Adams, an Episcopal priest from Geneva, N.Y., who morphs into "the Colonel" each summer — his wife, Sue, is known as the General — prowls Company Street, coffee cup in hand, in his regulation khakis. Mr. Adams is the kind of guy who can proclaim, "No bling when you're on the climbing wall!" and get instant results.
It was Mr. Adams, a former camper (1960-68) and son of a former camper (1919-26), who banished paddling 20 years ago: "There's a word for that, and it's child abuse," he said. But camp is strict, and, as he put it, "not for everybody."
"We like to joke at the beginning, 'If anybody wants to run away, make sure you leave your uniform here,' " Mr. Adams said. "Really, being asked to leave is the ultimate punishment."
Some 500 people are expected for this weekend's centenary, including 34 members of the Gerry family. Among them is Elbridge T. (Ebby) Gerry IV, 19, the first Gerry to volunteer as a counselor.
"So I'll be sleeping in a tent, and loving every minute," he said. "Over the course of camp, you watch little kids change into men who are ready to take on the world."
« Back to Media